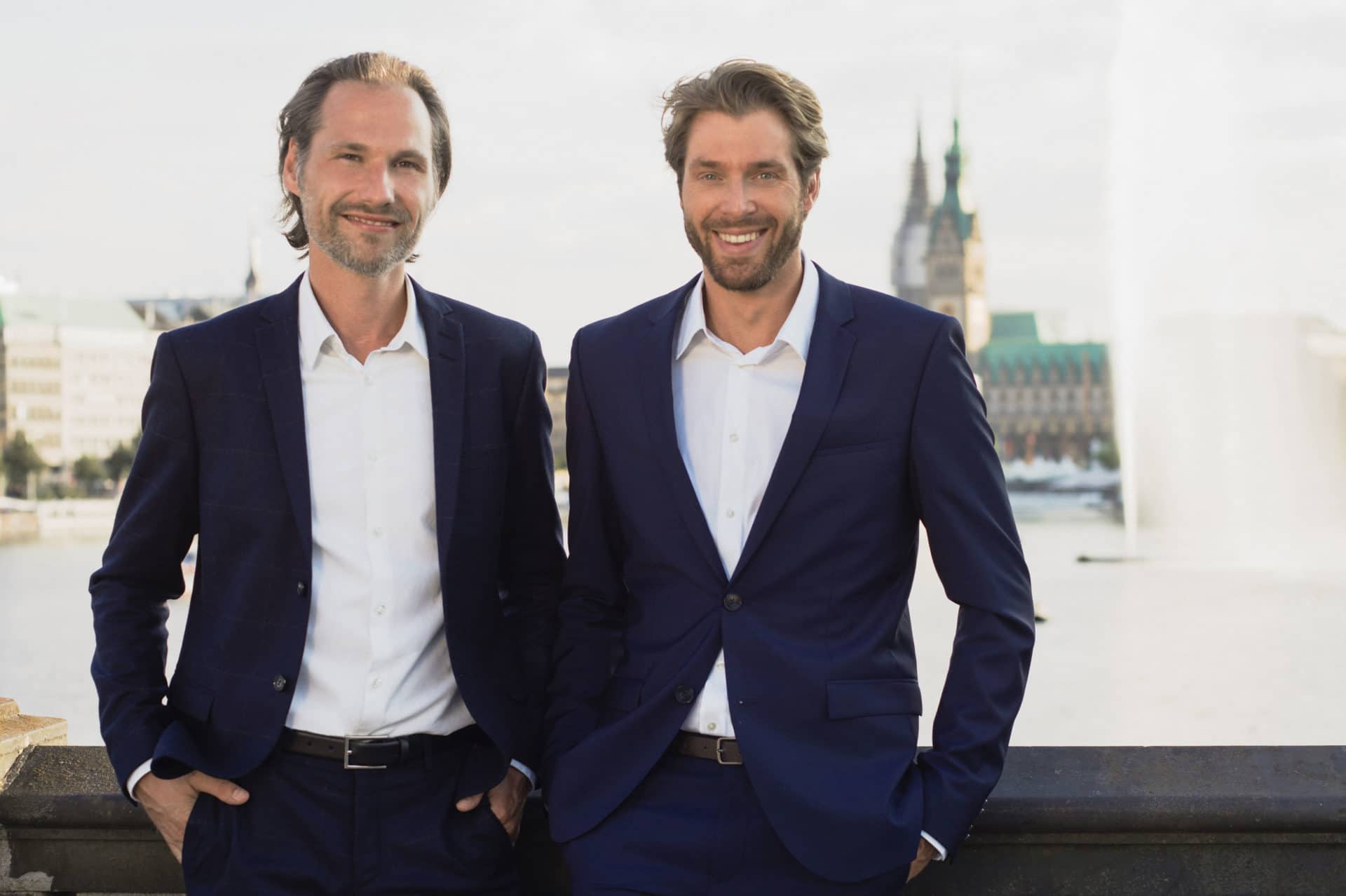 Water means life. It's the energetic force behind all natural human, plant and animal processes.
Time honored proverbs like "Water is the source of courage and vitality" and "You are what you eat" play a central role in the story of Proceanis.
The DNA of Proceanis
The exploration of water and its importance to the human organism has sent Founders Dr. Henning Jüchter and Engineer Heiko Bross on a journey that has attracted an ever increasing number of advocates worldwide.
The exploration of water and its importance to the human organism has sent Founders Dr. Henning Jüchter and Engineer Heiko Bross on a journey that has attracted an ever increasing number of advocates worldwide. Both have left their well paid consulting jobs to venture into business ownership. Their partnership is bound by two passions: a healthy lifestyle in unison with nature, and physical fitness. These passions continue to influence the directions and creativity used in their work with the substance hyaluronic acid.
[showhide type="post" more_text="more…" less_text=""]
How it all started
Starting in the 1970s, hyaluronic acid was injected into the joints of horses to increase their performance capacity. Later it was mixed into their feed. Through its high water binding capacity (one gram can bind up to six liters of water), it acts as a lubricant and shock absorber for joints, cartilage and fascia.
Heiko Bross experienced this evolution first hand on his parent's farm, where Holsteiner horses were bred and ridden. Henning Jüchter learned of hyaluron from his parents, who are both doctors. Hyaluronic acid is also injected into the joints of people who suffer from arthritis. Naturally the question arose: Why not add Hyaluron to human nutrition?
The synthesis of these two worlds provided the spark for their future partnership.
A unique molecular structure
Using Hyaluron as a nutritional supplement requires a unique molecular structure. A few years ago it was thought that Hyaluron couldn't be absorbed through digestion, but the latest research and a newly acquainted doctor encouraged Bross and Jüchter to start developing the Hyaluronic Complex. It is now produced through bio-fermentation in Germany, without animal testing and it is vegan. The ideal solution in every case.
Healthy inside and out
As physical fitness proponents, Bross and Jüchter know that painful joints aren't a function of age. Pumped up muscles and six packs are all the rage these days, but all the focus on the outside belays little of the bone crushing path required to get there. Looking fit doesn't necessarily mean being fit.
Bross and Jüchter opened their first online shop gelenktuning.de, operating from their homes in Eimsbüttel, Hamburg. Over 30% of their customers ordered again, a resounding indicator of satisfaction.
Their next breakthrough came through customer feedback. They discovered that customers taking their joint nutrition supplement also experienced a positive impact on the look and feel of their skin.
In 2012, one year after being founded, PROCEANIS introduced the world's first Hyaluron beauty drink.
Rediscovering the origin
All life on earth comes from the ocean. Binding water in our bodies can help us live healthier and age gracefully.
The concept behind PROCEANIS is based not only on the results of modern biotechnology, but also the increasing desire of people to rediscover to their origins. This can happens in chaotic times, shifts in moral paradigms and threats our ways of life. In varying amounts, our new century has experienced all of these things.
Three facts that led to PROCEANIS nearly doubling sales in 2015 in comparison to the previous year:
Household Word
Hyaluronic acid already has an excellent reputation and distinct qualities: as beauty helper in numerous creams that help to revive the skin. As an injection under the skin, which has the disadvantages of being costly, painful and only temporary. Both are unnatural intrusions. Our Nutricosmetic enables absorption of Hyluron naturally, throughout the body.
The path has been cleared
Hamburg, where PROCEANIS is based, is the capital of Germany's biotech boom. 2004 saw Hamburg and the state of Schleswig-Holstein decide to strengthen the industry, leading to remarkable growth. Within 10 years, net worth grew from €1.2 billion to €5.1 billion.
Ethical business
Production, packaging and transport use valuable energy, create waste and give off destructive greenhouse gases, including C02. PROCEANIS supports projects that remove plastic waste from the ocean.
Slim structure, mouth to mouth recommendations and two products that codetermine advancements in natural cosmetics and orthomolecular medicine. Proceanis's journey has only just begun and we're thankful for every passenger!
[/showhide]